Welcome to Pro HD Rentals!
We rent high definition and 4K cameras, lenses and all related equipment.  Our products include Arri Alexa Mini, RED Dragon, RED Epic, Sony PXW-FS7, Canon C-300 MKII, Blackmagic 4K, Canon Cine Series Lenses, Canon 17-120 Cine Zoom Lenses, Cooke S4i Mini Lenses, Zeiss Compact Primes, DJI Ronin, and more.  We are based in Burbank, CA and serve the greater Los Angeles area.
---
2018-19 Holiday Hours
As 2018 comes to close we are thankful for our great customers and partners that have made 2018 a memorable year. 
We  hope everyone will have blessed and happy holidays.  We look forward to working with all of you in 2019 and beyond.
Our hours of operation during the holidays will be as follows:
                                                                      Open                                   Close
Week before Christmas:                                       
Monday, December 17                            9:00 AM                               5:30 PM 
Tuesday, December 18                           9:00 AM                               5:30 PM                                                    
Wednesday, December 19                     9:00 AM                               5:30 PM
Thursday, December 20                         9:00 AM                               5:30 PM
Friday, December 21                                      Open by Appointment Only
Christmas Week:
Monday, December 24                                 Open by Appointment Only
Tuesday, December 25                                Open by Appointment Only
Wednesday, December 26                          Open by Appointment Only
Thursday, December 27                              Open by Appointment Only
Friday, December 28                                    Open by Appointment Only
New Year's Week:
Monday, January 1                                      Open by Appointment Only
Tuesday, January 2                              9:00 AM                              5:30 PM
Wednesday, January 3                        9:00 AM                              5:30 PM
Thursday, January 4                            9:00 AM                              5:30 PM
Friday, January 5                                  9:00 AM                              5:30 PM
---
DJI Ronin 2 Pro Gimbal End of Year Deal !!
---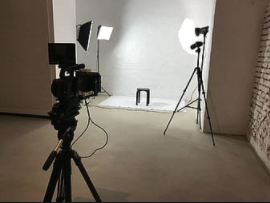 We have the NEW DJI RONIN 2 PRO GIMBAL available to rent. Rent in November or December and get it for $450.00 per day.
Upgraded high torque motors allow the gimbal to support a wider range of cameras.
The Ronin 2 supports a range of cinema cameras, even with high-grade lenses and accessories.
Compatible camera configurations include: Arri Alexa Mini, All Red Cameras, Canon C300 Series and more.  Allowing up to 30lbs of weight. Feel free to add your favorite high quality premium lenses. Zeiss Super Speeds, Zeiss Ultra Primes, Cooke Primes, CP.3's, Sony CineAlta Lenses and many more. 
Ask ProHD how to create the ULTIMATE DJI Ronin 2 Gimbal Package. 
---
We Have The ARRI Alexa Mini!
We have the ARRI Alexa Mini available to rent for $1,500 per day.
The ALEXA Mini can be operated in a number of ways: by wireless remote control, as a normal camera with the ARRI MVF-1 multi viewfinder attached, or with an on-board monitor and controlled via the user button interface on the camera body. Light enough to be comfortably held at arm's length in a hand rig, its compact size and extremely quiet operation also make it ideal for tight shooting conditions. The symmetrical design permits filming in any orientation, including upside-down and in portrait mode, while multiple accessory points enable highly creative mounting solutions. In addition, the ALEXA Mini's interchangeable lens mount can be replaced with any of those designed for the ARRI AMIRA, allowing the use of B4 video and EF mount stills lenses.
Equipped with a 4:3 sensor, automatic de-squeeze mode for anamorphic productions and frame rates of 0.75-200 fps, the ALEXA Mini records ProRes or uncompressed ARRIRAW either in-camera to CFast 2.0 cards or to a specially-designed external Codex recorder that can record image streams from up to four ALEXA Minis simultaneously -- a compelling option for multi-camera setups such as 360° plate shots. Images from the ALEXA Mini will perfectly match those from all other ALEXA cameras, making the final grade easier and quicker.
---
We Have The Canon C300 MK II!
We have the Canon C300 MK II with EF mount available for rent at $600 per day. The footage this camera captures is downright gorgeous. Watching the footage on the Internet does not do this camera justice. On a high resolution monitor with intense color reproduction, this video looks downright stunning. We are impressed with the colors, the depth of the images captured, and the sharpness of the in-focus subjects.
Canon's new XF-AVC codec looks great with little or no grading done to it. The data bitrate of 410 MB/sec in 4K, up from around 50 MB/sec in the previous C300 that only exported full HD, is impressive. This is high, but not insane, and the compression of the information was not noticeable.
The way this camera handles color is pretty extraordinary. Combine that with the dynamic range and you have a camera that creates images that are shockingly realistic. The dual pixel sensor is nice, and the focusing area occupies 80% of the sensor making it very fast and reliable. Not feeling autofocus? You don't have to use it, but Canon mixed manual focus with their autofocus tech, allowing the camera to still sense faces and lets you know if your manual focus pulls are actually in focus via a little icon that appears above faces. It's a nice little touch, and one that will certainly work well in combination with focus peaking to assure subjects are sharp.  Overall this is a great camera, come by our office and check it out today.
---
We Have The Sony PXW-FS7!
We have the Sony PXW-FS7 available for rent at $400 per day.  Sony's PXW-FS7 is the ideal camcorder style camera for documentaries, unscripted TV, web features, indie films, reality TV and more.
The FS7 can record 4K internally and up to 180 fps at 1080p with no time limits.
We did some shooting with our new cameras and here are some of our first impressions:
Custom LUT's provide dramatic range in looks (we are still playing with these but initial results are impressive)  

Very good, gradable 4K image (the 10 bit high bit rate XAVC is awesome)

As good as C300 in low light but less color in the noise

Very high dynamic range and amazing latitude 

Rugged 

Long battery life, 2+ hours per U60 in 4K?  3 60 batteries should last you all day. 

Great Smart Grip and ergonomics

Nice EVF/Monitor - sharp and very bright.

Many shooting options
Very easy to shoot by handle (low), high (over your head), against your chest (pseudo C300 style but better stabilized) 
---
New at Pro HD! - Check out our latest additions: