Sony PXW-FS7 Camera for Rent in Los Angeles
Sony PXW-FS7 - $400 per day / $1,200 per week / $4,000 per month
PXW-FS7 XDCAM camera has an ergonomic grip design for easy handling and operability, making it ideal for one-man operation in situations where the extraordinary flexibility of its α Mount lens system and compatible interchangeable lenses can be used to maximum advantage. The PXW-FS7 features a 4K Super 35mm Exmor CMOS sensor and support for shooting in 4K** 60p or Full HD at high frame rates up to 180 fps (frames per second). Selectable recording formats include XAVC, which supports 4K* 60p, Full HD 60p even in 4:2:2 10-bit recording, as well as the common MPEG-2 HD 422 format used by many broadcast stations around the world. Attach an optional Extension Unit (XDCA-FS7) to open up the possibilities of multi-camera shooting and ProRes 422 encoding**. Connect an HXR-IFR5 interface and AXS-R5 recorder to support parallel recording and 4K/2K RAW recordings up to 240fps in 2K.
One Day Rental Rate for Sony PXW-FS7
Sony PXW-FS7
---
Recommended Accessories for the PXW-FS7
---
Sony FE PZ 28-135mm f/4 G OSS Lens - $60 per day /$180 per week / $600 per month
Designed to satisfy 4K production requirements and the PXW-FS7 camera, the Sony FE PZ 28-135mm f/4 G OSS Lens is a wide-ranging zoom lens that covers wide-angle to telephoto perspectives while adding many features for your full-frame, APS-C, or E-mount camcorder or still photography camera system. The lens features a powered zoom control with a variable speed and zoom rotation direction reversal capability. Powering the zoom function is an SSM (Super Sonic wave Motor) drive that allows precision and quiet operation. Focus noise is also minimized through weight reduction of the focus element group and use of a linear motor. Iris function is also designed to be smooth and silent for cinematography demands.
Sony XDCA-FS7 Extension Unit for PXW-FS7 - $100 per day / $300 per week / $3000 per month
PRODUCT HIGHLIGHTS
Enables 12-bit 4K/2K RAW Data Output

Built-In 1080p ProRes 422 Encoder

Timecode & Genlock I/O

Tally Indicator

V-Mount Battery Attachment

4-Pin XLR DC Power Input

4-Pin Hirose DC Power Output

 
The Sony XDCA-FS7 Extension Unit attaches to the back of your PXW-FS7 via a MultiPin connector, adding additional I/O and enabling RAW data output for recording 12-bit 4K/2K RAW footage to compatible external recorders. The unit also features built-in Apple ProRes encoding for recording 1080p ProRes 422 video to an XQD card in the camera. Additionally, the Extension Unit adds Timecode and Genlock connectors for multi-camera operation, as well as a V-Mount battery connector. A 4-pin XLR DC power input and 4-pin Hirose DC power output are also provided.
Note: RAW recording requires the HXR-IFR5 Interface Unit and a compatible recorder.
One Day Rental Rate:
Sony XDCA-FS7 Extension Unit for PXW-FS7
Odyssey7Q+ OLED Monitor & 4K Recorder $225 day / $675 week / $2250 per month
Convergent Design's Odyssey7Q+ is a monitor recorder that provides all of the features and functionality of the Odyssey7Q but adds support for 4K recording over HDMI. It features a 7.7", 1280 x 800, OLED, touchscreen display with a 3400:1 contrast ratio, true blacks, and professional monitoring features such as waveform, histogram, vectorscope, anamorphic de-squeeze, and 3D LUT support. Out-of-the-box, the Odyssey7Q+ can record up to 4K (4096 x 2160) and Ultra HD (3840 x 2160) in the compressed Apple ProRes 422 HQ format or up to 2K/1080p using the uncompressed DPX file format. 
Specifications:
7.7" 1280x800 OLED Touchscreen Monitor

4K & Ultra HD Recording over HDMI or SDI

ProRes and Uncompressed DPX Recording

Raw Format Support

3G-SDI Inputs/Outputs

4K-Capable HDMI Input, 1080p HDMI Output

Image Analysis Tools

Built-in LUTs & Custom 3D LUT Support
High Frame Rate (HFR) Recording
The Odyssey7Q+ monitor recorder is capable of recording and processing video at high speeds. With high frame rate (HFR) recording the image can be reach new heights of clarity and smooth motion, or the frames can be played back at standard speeds to create slow motion. High frame rate capabilities are camera system and resolution dependent. The Odyssey7Q+ never "creates" frames, only captures them, so a camera must have an output for a high frame rate in order for the Odyssey7Q+ to record it.
The Odyssey LUT System
(Requires Odyssey Firmware v2015.5)
Contributing to the power and versatility of the Odyssey7Q and Odyssey7Q+ is the ability to display and route 3D-LUTs. Signals with 3D-LUTs applied can be displayed on the OLED, measured on the Image Analysis Tools and output over HDMI and/or multiple SDI outputs.
One Day Rental Rate:
Odyssey7Q+ OLED Monitor & 4K Recorder
---
PXW-FS7 Recording Times for XQD Cards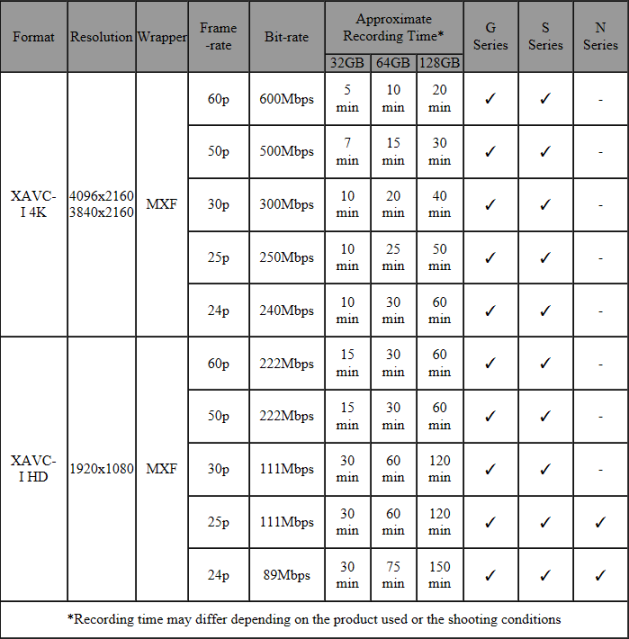 ---
PXW-FS7 Manual
Sony PXW-FS7 Manual
Manual-Sony-PXW-FS7-Pro_HD_Rentals.pdf
Adobe Acrobat Document
3.3 MB
---